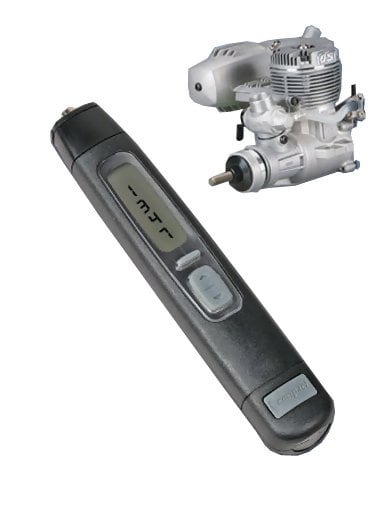 ---
Measures RPM of 2 & 4 Stroke Gas / Petrol Engines
---
60 to 18,000rpm
---
he Compact A2105 Digital Hand-Held Tachometer measures RPM of 2 & 4 Stroke Gas / Petrol Engines with a Non-Contact Antenna Sensor or Clip-On Remote Cable Sensor.
The Compact A2105 is ideal for testing most types of single and multi-cylinder petrol & gas engines with electric and electronic ignition systems, designed for hand-held testing and hands free bench testing of engines, chain saws, disc cutters, horticultural and Forestry machinery, pumps, compressors and similar engine driven equipment.
Automatic Measurement - Auto switch off
The units operate continuously once powered on, measurement will be automatic while speed pulses are being received from the Transducer, after approximately 5 minutes of inactivity the instrument switches off.
Inverting display
This unique feature allows the Tachometers to be used through 180 degrees rotation, providing easy readability in difficult applications.
Maximum revs capture mode
Allows the user to take single shot peak speed checks on machines with automatic overspeed governors and centrifugal clutch checking, the actual maximum speed is held in the display.
Compact A2105 Gas Engine Tachometer
Clip-On Cable Sensor
Non-Contact Antenna Sensor
Calibration certificate
AAA batteries
Instruction Manual
Carrying Case
Supplied with a Non-Contact Antenna Sensor & Clip-On Cable Sensor
Measures RPM on 2 & 4 Stroke Gas / Petrol Engines
Works with Single & Multicylinder Gas Engines
Includes Certificate of calibration
Reversible display
Real-Time or Peak RPM Display
Speed range
60 to 18,000rpm
Resolution
10 rpm
Accuracy
0.05% +/- 1 digit
Update
0.8 sec (normal mode)
0.1 sec (capture mode)
Controls
On, Invert, Capture, Ratio
Auto Off
Auto shutdown if inactive for 5 minutes
Signal Indicator
Yes in display
On target ind.
Yes
Low battery ind.
Yes in display
Power
4 x AAA batteries-supplied
Carry Case
Supplied