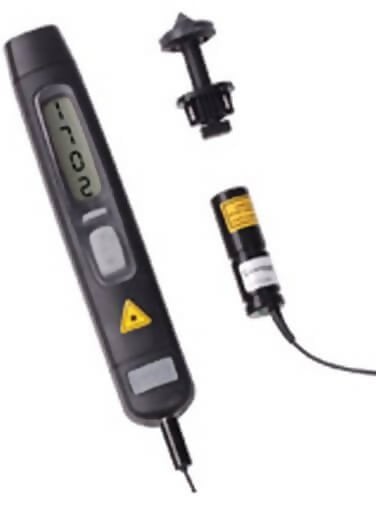 ---
Advent professional Optical/Contact Tachometers
---
The Compact A2103-LSR-K Advent Professional Handheld Tachometer is a very versatile multipurpose Tachometer with both Optical or Contact rpm, linear rate, distance ranges, a additional remote Laser Optical Sensor for rpm monitoring in difficult access applications, the unique inverting display, allows easy reading when in a limited access situation, an optical range of up to 2 metres, the optical performance is second to none, the time and Count modes, data capture and very fast response modes, 0.1 seconds update time, traceable certificates supplied as standard.
Signal Input features:5v Pulse Signal is via the 3.5mm stereo Jack socket on the rear of housing which can be used with one of our remote optical sensors, alternatively it can be used to measure any pulse rate signal up to 5v pp.
Contact Measurement:Measurement units: Revolutions, Metres, Feet, Yards per Minute and per Second or length in 0/1 metres units Time interval or reciprocal speed for very slow rates in seconds/revolutions,Count mode: Counts distance or revolutions.
Maximum speed with Contact Adaptor:Governed by upper speed limit of bearings and is affected by measurement duration, typically 50,000 rpm for 10 Seconds. Maximum linear rate is typically 1,500 metres/minute or 4,500 feet/minute.
Compact A2103-LSR-K Advent Professional Handheld Tachometer
MiniVLS 311/001 Plain Housing and 3.5mm Jack Plug
Reflective Tape
Certificate of Calibration
Instruction Manual
Carrying Case
Maximum: Captures maximum speed in 0.1 seconds
Minimum: Captures minimum speed in 0.1 seconds
Time-base: 0.1 seconds in Capture mode
Average: Averages over last 8 readings
| | |
| --- | --- |
| Laser | (internal & remote) |
| Optical range | 50 - 2000mm |
| Angle | +/- 80 |
| Light Source | 1mw Laser 635nm class II |
| Speed range | 3 - 99,999 rpm or rps equiv |
| Resolution | max. 0.001 (autorange) |
| Accuracy | 0.05% +/- 1 digit |
| Update | 0.8 sec |
| Capture mode | 0.1 sec |
| Count | 0-99999 revs or length in linear |
| Time interval | 0-99999 secs (autoranging) |
| Memory | Holds last reading 1 minute |
| On target ind. | Yes |
| Low battery ind. | Yes |
| Signal input | 3.5mm socket for ext. Optical Sensor |
| Remote Sensor | MiniLaser with 1 metre cable supplied |
| Power | 4 x AAA batteries-supplied |
| Contact Adapter | Supplied |
| Carrycase | Supplied |
| Reflective tape | Pack of tape supplied |