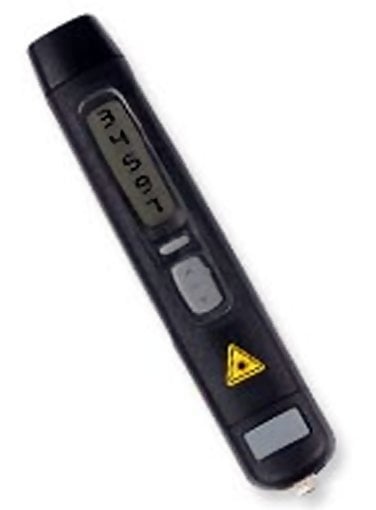 ---
Diesel/Petrol/Contact & Optical Laser
The Compact A2107 Advent Combination Diesel / Petrol Engine Tachometer is ideal for testing all types of engines and rotating component speeds such as Fans, blowers & transmissions. Designed for both Optical and dedicated petrol or diesel hand held testing of all types of engine driven vehicles & machinery, pumps, compressors and similar engine driven equipment.
The Hands Free mode functions in both Diesel & Petrol engine modes which is ideal for bench or workshop testing.
Optical Laser Mode
This extremely versatile mode allows the user to measure speeds of almost any machine or equipment where an exposed shaft is visible and on which a reflective marker can be attached. Ideal where engines cannot be accessed through the ignition system or Diesel injector pipework, the user simply needs to attach a small self adhesive reflective tape marker to the shaft which requires measurement, then measure from up to 2 metres away.
An optional contact adaptor is provided for applications where an end of shaft is accessible
Compact A2107 Advent Combination Diesel / Petrol Engine Tachometer
Transducer Cable Assembly
Stub Atenna
Remote Antenna
Reflective Tape
DES/10 Transducer
Contact Adapter
Certificate of Calibration
Instruction Manual
Carrying Case
Optical system
Laser - range 50 - 2000mm
Laser type
1mw 635nm - for portable use
Speed range
3 - 99,999 rpm
Resolution
1 rpm
Accuracy
0.05% +/- 1 digit
Display type
5 Digit LCD - Inverting (180 deg)
Display Update
0.8 sec (normal mode)
Capture mode
0.1 seconds
Controls
On, invert, Capture, select programme
Auto Off
Auto shutdown if inactive for 5 minutes
Low battery ind.
Yes in display
Signal indicator
Yes in display
Power
4 x AAA batteries - supplied
Transducer cable
1 metre cable& connectors included
General Specification - Diesel Mode
Speed range
60 to 18,000rpm
Resolution
10 rpm
Accuracy
0.05% +/- 1 digit
Display type
5 Digit LCD - Inverting (180 deg)
Display Update
0.8 sec (normal mode)
Capture mode
0.1 seconds
Controls
On, invert, Capture, select programme
Auto Off
Auto shutdown if inactive for 5 minutes
Low battery ind.
Yes in display
Signal indicator
Yes in display
General Specification - Petrol Mode
Speed range
60 to 18,000rpm
Resolution
10 rpm
Accuracy
0.05% +/- 1 digit
Display type
5 Digit LCD - Inverting (180 deg)
Display Update
0.8 sec (normal mode)
Capture mode
0.1 seconds
Controls
On, invert, Capture, ratio
Auto Off
Auto shutdown if inactive for 5 minutes
Low battery ind.
Yes in display
Signal indicator
Yes in display
Antennae int.
Range up to 75mm - supplied
Remote Supplied
0.5m cable with clip