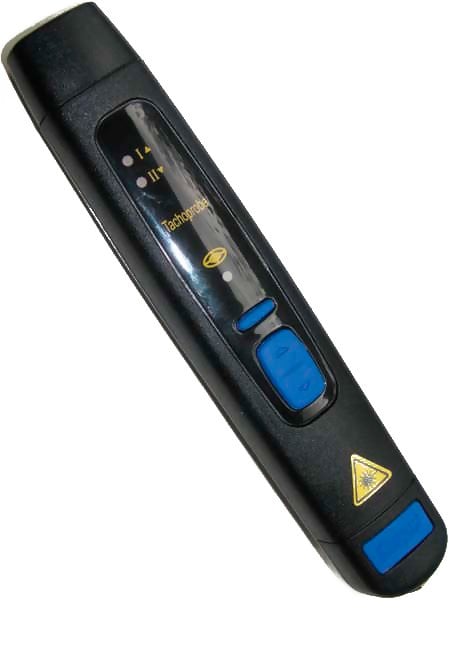 ---
The Compact A2108 Tachometer with Analog Output is designed to provide short term continuous monitoring of rotational speeds or linear rate with our optional Contact Adaptor accessory typeA2100/01.
The voltage output on theA2108-LSRAnalogue Output version provides 1mv/rev = 6vdc @ 6000 rpm.

TheA2108-LSRversion is switched On manually, using the continuous mode feature. option, provided continuous measurement is taking placethe Probe will remain in the ON mode. An Auto OFF feature provides shutdown if no activity is logged for 1 minute.
One model - Analogoutput
Compact A2108 Tachometer With Analog Output
Reflective Tape
Certificate of Calibration

Instruction Manual
Carrying Case
Compact A2108-LSR Tachometer With Analog Output
Reflective Tape
Certificate of Calibration

Analogue Adaptor
Instruction Manual
Carrying Case
Compact A2108/LSR/232 Tachometer With Analog Output
Pack of 4 AAA Batteries
Reflective Tape
Certificate of Calibration
RS-232 Serial Adaptor

Software available to download from the PDF Downloads & Software Product Tab
Analogue Adaptor
Instruction Manual
Advent Carry Case
Long optical range - up to 2 metre (6ft)
Very wide speed range - up to 60,000rpm
Self powered - integral AAA batteries
Optical & Contact measurement with Adaptor)
Hand held, bracket or tripod mounting
Compact A2108 Tachometer
| | |
| --- | --- |
| RPM Overall Range | 100 60,000 rpm |
| Speed Ranges I | 100 6000 rpm |
| Speed Ranges II | 1000 60,000 rpm |
| Accuracy | 0.5% |
| Revolution | 1.5mV |
| Zero Offset | 3mV Maximum |
| Light Source | Minilamp |
| Optical Range | 50mm 1000mm |
| Optical Angle | 45 degree to reflective marker |
| Voltage Output | 0 6vdc |
| Connections | Coiled cable with 2 x 4mm plugs fitted |
| Contact Adaptor | Optional Accessories |
| Power Requirements | Batteries not included, 4 x AAA batteries are required |
Compact A2108/LSR Tachometer
| | |
| --- | --- |
| Speed Range I | 100 6000 rpm |
| Speed Range II | 1000 60,000 rpm |
| Range Select | Up Arrow = I, Down arrow = II |
| Output Signal | Analogue 0.1-6vdc, both ranges |
| Accuracy | 0.5% |
| Revolution | 1.5mV |
| Zero Offset | 3mV Maximum |
| Update Time | Time of one revolution or 1 millisecond |
| Controls | 2 x Press to Measure buttons One Continuous Mode button |
| Auto Off | Auto shutdown if inactive for 5 minutes |
| Optical Range | 50mm 2000mm |
| Optical Angle | 80 degree to reflective marker |
| Light Source | Red Laser Class II 635nm WARNING LASER RADIATION, DO NOT STARE INTO BEAM, CLASS II LASER PRODUCT |
| On Target Indicator | Yes |
| Signal Indicator | Yes |
| Power Requirements | Batteries not included, 4 x AAA batteries are required |
Compact A2108/LSR/232 Tachometer
| | |
| --- | --- |
| Speed Range | 100 60,000 rpm continuous |
| Revolution | 1 rpm |
| Accuracy | 0.1% |
| Connections | RS-232 Serial |
| Capture Mode | 0.1 seconds |
| Controls | On, Invert, Capture, Ratio |
| Optical Range | 50mm 2000mm |
| Optical Angle | 80 degree to reflective marker |
| Light Source | Red Laser Class II 635nm WARNING LASER RADIATION, DO NOT STARE INTO BEAM, CLASS II LASER PRODUCT |
| On Target Indicator | Yes |
| Signal Indicator | Yes |
| Power Requirements | Batteries not included, 4 x AAA batteries are required |