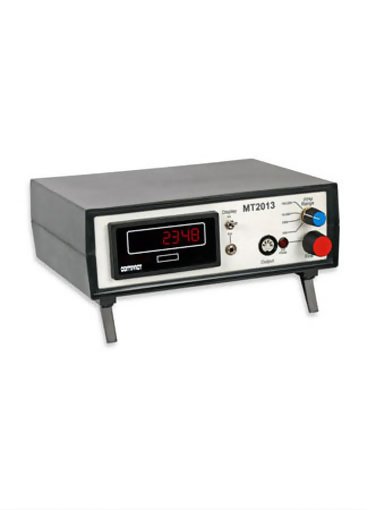 ---
The Compact MT2013 Optical Tachometer and Stroboscope Calibrator was originally designed for inhouse test and calibration of our comprehen-sive range of Digital Optical Tachometers, Optical Speed sensing products and Stroboscopes.
The Compact MT2013 is suitable for Calibration of virtually any make of Optical Tachometer, Optical Speed Sensors and Stroboscopes, in addition, they can be used with Digital Panel Tachometers, Ratemeters, Batch counters and similar pulse related products.
The Calibrator can be used to test Panel and Bench type Tachometers via the pulse output feature and also tests proximity and optical speed Sensors.
Compact MT2013 Optical Tachometer And Stroboscope Calibrator
Reflective tape
VLS5/J Speed Sensor 3.5mm Jack Plug
3 Output Leads
Calibration certificate
Power Cord
Instruction Manual
Carrying Case
Wide input pulse rate range 0.05 200 KHz using the input divider and scaling features
High accuracy and ease of reading
5 Digit LED display
Full scaling facilities up to 5 digits
Selectable display revolution 4 options
Low speed capability 3 rpm to 0.001 revolution
Strobe calibrator
Time interval for cycle time and reciprocal rate measurement (Very low pulse rate can be monitored)
Count mode up to 8 digits auto ranging
Time accumulative mode average for rate calculation
Pulse, RS-232 serial and Analogue output options
Specials available to order
Digital Display

5 Digit LED - displays input or output speeds.
Speed Range

3 100,000 rpm in 4 ranges | 4 position Selector switch
Speed
Adjustment
Fine adjust via multi turn potentiometer
Accuracy
+/- 0.01% +/- 1 digit
Resolution
Autoranging max. 0.001 rpm
Output Facilities

LED attachment for Optical Tachometers TL pulses for Digital Instrumentation
Input Facilities
Optical Sensors [supplied] ( can be used for Stroboscope calibration), Proximity Sensors
3 wire 10-30vdc types, TTL input & magnetic Sensors
Sensor Supplies

5vdc & 12vdc
Controls
Signal in/out switch for Tachometers or Strobes
Input/Outputs

Strobe output Via 3.5mm Stereo socket
Signal Input
Via 5 pin DIN socket
Sensor Power
Via signal input socket
Power Input
110/240vac (dc options by request)
A traceable Calibration certificate is supplied with each product. An optical sensor is supplied for stroboscope calibration